Juju believes that everyone's first call girl experience should be with an Asian. "We are more exotic," she giggles when asked why. She is a petite beauty with long dark hair and a slender figure. She loves showing off her curves and her creamy white skin in cosplay outfits, lacy lingerie, and so much more.
You deserve to access the hottest Vegas escorts, and Juju has availability when you need it the most. She can accompany you day or night to anything you want to do in Sin City. She has friends that the two of you can visit in some of the hottest strip clubs. She even has experience as a brand girl, allowing you to benefit from having her at your side during work conventions.
Juju is prepared for the wild night you want to have in Vegas. All you have to do is tell her what to wear – she has a closet that ensures she's dressed to impress whether you choose to go out on the town or stay in all night.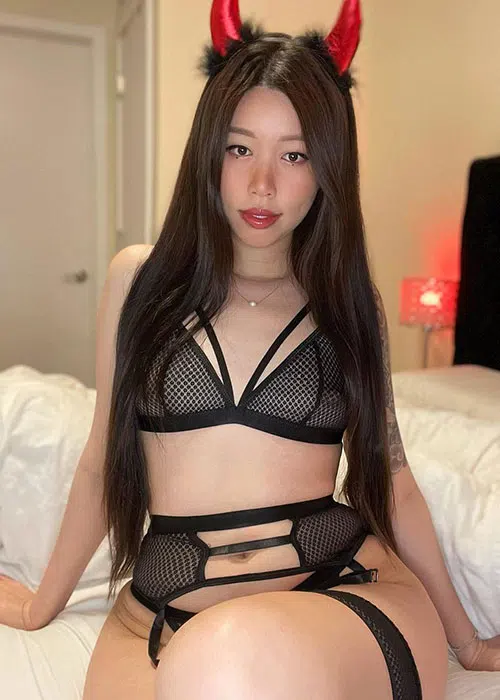 Tap Into Juju's Hidden Talents
This Asian beauty hasn't been in the U.S. long, so you may actually know more about Vegas than she does. She'll be happy to show you around what she does know. Or, you can tap into some of her hidden talents by staying in all night. Your hotel room can be turned into your own private strip club. She can offer you stripteases without you having to leave your room. And her moves are quite impressive!
Of course, Juju isn't like some of the Las Vegas hot girls you may have encountered. She loves to offer sensual massages and participate in fetish play. It can be a great way to venture outside of your comfort zone and enjoy some things you don't usually get to do.
Juju is determined to make your time with her memorable, so don't be shy about asking for what you want. When you're ready to see all that this petite Asian girl has to offer, call us to get onto her calendar today.